SES Greenletter January 13, 2020
Community Meeting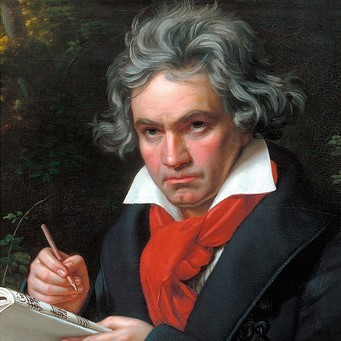 Our next Community Meeting will be on Friday, January 17th at 8:15 AM. Please note our slightly earlier start. The Pledge of Allegiance and birthday announcements will occur at the beginning (no Parent Pop Quiz) and then we will enjoy a very special performance from a chamber group through the Spruce Peak Chamber Music Society. The production will celebrate the music of Beethoven.
2020 is Beethoven's 250th birth year, and the whole world will be celebrating! We are taking everyone on a journey through Beethoven's life, divided into three periods - early, middle, and late, presenting works written from all three periods. From his fun and youthful days to one the last works ever written by him, an extremely personal, deeply touching piece that changed music forever.
Beethoven really was in a way, the world's first Rockstar. Before him, works of dead composers were rarely played. But by the 1870s, dead composers owned the concert hall. They still do today. When he died, some 20,000 people filled the streets for his funeral. Schools were closed. At the "Beethoven Festival", Salespeople hawked Beethoven neckties, Beethoven cigars, and even Beethoven pants. His influence on classical music is vast. The bigger, stronger modern piano emerged partly to accommodate his pieces. The first professional orchestras appeared in his wake, many with the goal of preserving his work.
Please join us for this very special performance.
Kids Care!
Last week was the first meeting of KidsCare! Kindness Club - and what a turnout! We are so excited to see how many SES students are ready to spread kindness throughout our community! In our first meeting we all worked together to make a special treat, a tick tack toe game and New Year's cards to share with Meals on Wheels recipients in Lamoille County.
If you were unable to attend KidsCare! Kindness Club but still want to spread kindness we have a take home project with which we need help! Meals on Wheels Lamoille County is looking for "Letters of Love" to distribute to their recipients - 160 letters in total, which is more than our club can produce on its own! If you want to get involved please see this document for more information, tips and where to send your "Letter of Love"!
https://docs.google.com/document/d/1QBxEVlT3pWKRTf-blxAjickkWhipjDGB4Tvrau0whDk/edit?usp=sharing"
Thanks for your support, SES Community!
- Jamie, Wendy & Ashley
Update from the Cultural Arts and Diversity Committee
We have been hard at work to bring various enrichment opportunities to SES and with the incredibly generous support of our PTO, we would like to present three exciting school-wide events for this school year.
The No Strings Marionette Company
Puppeteers Dan Baginski and Barbara Paulson, who have toured America together for over sixteen years, will be transforming our gym into an intimate theater, where the seamless blend of movement, music and masterful manipulation will captivate young and old alike. With puppeteers in full view, the audience will see how puppets are brought to life.
There will be two assemblies on Thursday, January 23rd:
8:30 - 9:30 am: Grades 3 - 5
10:00 - 11:00 am: K - 2 Grades
Baginski and Paulson are Vermont artisans who lovingly hand craft the marionettes, props and scenery. They will be back for an artist residency during the week of February 10th - 13th. Puppet-making workshop sessions for all our students will take place in the Art room.
Geoff Hewitt
Once again Vermont's reigning poetry-slam champion will be back to work with our students in creating masterful poetry. He will be joining us for a 4 day residency that will include all students in all grades, with a culminating final poetry slam of our own! Final dates coming soon.
DINOMAN
Dinosaur tracks lead right to our school! Have no fear, Dinoman is here! With magic, merry mayhem, and magnificent props, the audience will be taken on a trip throughout the mesozoic era. How do we know dinosaurs were here? What is a fossil? How are they made? This program is fun and informative for all ages.
"Dinoman" Bob Lisaius, a paleontologist from Warren, Vt., will thrill, entertain, and educate us about the Age of Dinosaurs, fossils, and science! Joining Dinoman will be his life-sized prehistoric friends. A delight for dinosaur fans of all ages! Dates and more details to follow.
Make a Meal Service Project
Do you have some free time this weekend? Are you looking for another way to give back to your community? Maybe, a way to get your kids involved with helping other families?
In honor of Martin Luther King, Jr, who lived a life of service, we wanted to provide an opportunity for people to give back. We have a list of families, mostly local foster families, for whom we would like to provide a meal. These families work tirelessly to provide safe, healthy, happy homes to children who need it and this is a small way for us to lend a hand. So, on your own or with your kids or friends, you make a meal (one main dish in a disposable pan plus a side, such as bread). We will be collecting the meals on Monday, 1/20/2020 from 10:45-11:45 at the David Gale Rec Center in Stowe and providing coffee, tea and muffins. Meals will be delivered on Monday and we are looking for drivers to deliver as well. Easy, right?
Here is a link to sign up:
https://www.signupgenius.com/go/30E0E4AABA729ABF49-mlkday
And if you have any questions, please reach out to Cara McLaughlin ([email protected]) or Wendy McCreight ([email protected]).
Quick recap: You make a meal for a local foster family. We ask that you make one main dish in a disposable tray and possibly a side, too (bread or something like that). Deliver the meal on MLK day (Monday, 1/20/2020) between 10:45 - 11:45 at the David Gale Rec Center in Stowe. If you can't make it during those hours, contact us and we can make arrangements. Stay for coffee and a muffin and enjoy the company of other givers! Or, if you can't cook, you can help deliver the meals and still come for coffee.
Thank you for considering! Wendy and Cara
Our fourth and fifth graders have been invited to participate in the National Geographic Geography Bee, which will be held at SES on January 23, 2020 at 1:30. Participation involves regular practice sessions run by parent volunteers with the guidance of teachers. Practice sessions are scheduled on Wednesdays and Fridays from 7:45 to 8:10, in either Mrs. Perkins' or Ms. Harper's classrooms. The remaining sessions are as follows:
Wednesday, January 15th
Friday, January 17th
Wednesday, January 22nd
It's not too late for your child to participate... they just need to see Mrs. Perkins for a slip to be signed.
For more information and to sign up if your child wishes to participate and/or you would like to help with practice sessions, click Geo Bee.
Required Winter Attire
All clothing items should be labeled with your child's name. In order for your child to play on the playground when there's snow, snowpants and boots are MANDATORY.

FRIDAY PROGRAM is off to a great start!
Thank you to all of the parents, volunteers, instructors, SES teachers and staff and venue employees who contribute to this unique and engaging experience for our children. A special thanks goes out to the Friday Program School Committee for their boundless energy and commitment to forging a successful program. We look forward to another awesome season!
Friday Program Checklist
Very important information about Friday Program, including rules and regulations, snack arrangements, pick-up procedures, etc., may be accessed by clicking here. On a cautionary note: when the forecast signals extremely cold temperatures, children need hand warmers, neck gators, face masks, extra layers... attire that will keep them protected, comfortable and safe in challenging weather conditions.
The Friday program schedule for the remainder of the season is as follows:
January 17, 24, 31
February 14
March 6, 13, 27
We are still looking for volunteers on the mountain. Please contact Dot in the office if you can help out!
COMMUNITY ACTIVITIES
Stowe Youth Soccer
The 2020 Spring soccer is open to all kids born between 2008 and 2013 and it isn't based on grade.
Stowe Spring soccer registration is open now and it closes on 2/19/20.
Please go to https://sites.google.com/view/stowesoccerclub/programs for more information.
HDAC NEWS AND INFO
'Love Letters'
Helen Day Art Center is celebrating the opening of an exciting exhibition, 'Love Letters.' This exhibition is part of a statewide initiative called '2020 Vision: Seeing the World Through Technology.' The Opening Event is Thursday, January 16 from 5:00 -7:00, and there will be artist talks. Also happening is the grand opening of a new Art Lounge - a place to relax, read amazing art books, and take in all the surrounding art on the walls. We are hoping you will pop over while this exhibit is on view from 1/16 - 4/18. Tours are available anytime between 10:00 - 5:00, Tuesdays through Saturdays, and there is a super interactive Hands-on Room for any age! Lots of free public programming events, too... so come and check it out. What do you think about Art and Technology? Contact Alexa Sherrill at [email protected] to schedule a tour that meets your needs.
Youth Education starting January 13
Sign up for our new 9-week and 6-week sessions
Adult Education starting February
Sign up for our new workshops!
HDAC is a member of the Stowe Arts & Culture Council
Important Dates
Professional Development (no school for students): January 20
Professional Development (no school for students): February 7
Winter Recess: February 24 - March 2
Town Meeting Day (no school): March 3
School Reopens: March 4
Early Dismissal: March 19, 12 noon
Student Led Conferences: March 20
Professional Development (no school for students): March 23
Early Dismissal: April 3, 12 noon
Spring Recess: April 13 - 17
Kindergarten Orientation: April 24
Spring Concert for Band & Chorus: April 30
Federal Memorial Day (no school): May 25
Please check the calendar on the school website for individual grade field trip information.
LINKS
Children's Rivalry! Parenting Presentation
Winter Survival w/the Fly Rod Shop